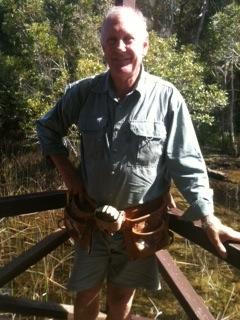 We have now had 4 working bees as part of the restoration of the Kinaba Information Centre.  A team of 4 to 6 people head up to Kinaba early on Geronimo, most often sailing both ways.  Each bee is 4 to 6 hours of work, and a delicious spot for morning tea.
So far we have had a general clean-up to get rid of bird nests in the shower room and clean up the shower in readiness for its use.  
Brooming down the walls in all the rooms to remove dust, spider webs and hornet nests.  
We gave the displays a wash which improved their sparkle immeasurably.  
Charlie restored the plaque commemorating the opening of the Centre in 1979.  
The kitchen cupboards have been cleaned and washed.  
The upstairs verandah and sunroom has been swept and 2 coats of oil, and a single coat downstairs.  
Jeremy and Bob have sistered joists under the north-facing verandah and replaced decking and facia board to protect the joists.  
Charlie has oiled all the locks and secured mesh over the accommodation windows, and hung vertical blinds which are very smart indeed. 
Bob has replaced the nails in the end boards all along the upstairs verandah, and hammered in all raised nails that could damage bare feet along the walkway and jetty, and mostly finished the downstairs verandah as well.
We have begun washing down the walls in the accommodation, and it sure makes a difference. 
Category: