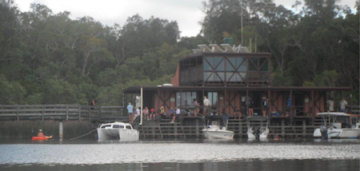 Last Sunday, 16th of February, Friends Of Kinaba had their first Kinaba picnic for 2014.
Being summer we decided on a Picnic Breakfast, which was a great decision due to the windy conditions over the last week, and ensured a smooth passage across the Lake
About 40 members, friends and interested folk came to Kinaba for the morning, on motor and sail boat, canoes and a Hobbie Tri.  We fired our donated BBQ and gas stove for the first time and those wanting a hot breakfast had a nice cook on. Our big kettle (nice find, Charlie) provided plenty of boiling water for drinks.
A couple of our new Noosa Councillors came to meet us as well as The Noosa News editor / reporter. Tony & Stefanie Haslam and Evan from NICA joined us for the picnic and it was great to socialize. Bob Clarke took the opportunity to do another inspection, and listed several areas requiring attention to add to our list. Thanks Bob.
Kinaba Picnics provide a great way for members, friends and anyone else interested to access the northern reaches of lake Cootharaba.  We hold the Kinaba picnics every 3 or 4 months.  If you would like to join us and don't have a water craft or means to get there, let us know and we will organise a lift.  Look out for our next picnic flyer in a couple of months.  (There is a walking track off to the left, just opposite the Canoe Launch turn-off, on the Elanda Point road - 12.2km return - it is a flat track and takes about an hour)
Ada for Friends Of Kinaba