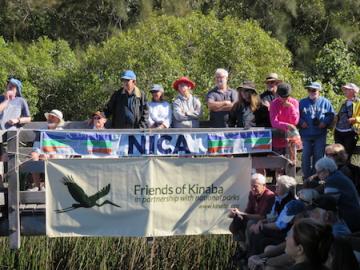 After much planning and preparations the combined NICA 5th catchment excursion (as part of their 20th year birthday celebrations) and Friends Of Kinaba winter picnic started in an early morning flurry at the Boreen Point boat ramp, where boat owners and skippers prepared their boats, and members of NICA, FOK and NPA, the Noosa mayor and a couple of councillors congregated for a lift to Kinaba. Most passengers travelled on the boats, while some ventured to Kinaba via the vehicle track led by Steve Jardine from QPWS. The sky was brilliant blue, the lake calm and reflective, which was great for those visitors who chose to take their own kayaks and small boats.
 Around 80 people arrived at Kinaba by about 10.00 where they were welcomed with tea, coffee, fruit and cake. The main event started shortly after with presentations from John Olds from Marine Parks, who spoke about the water systems in the area and how they interact. John was followed by Steve Price, the QPWS ranger in charge of Sunshine Coast, who spoke about the management of the park.
A lively Q&A session ensued, followed by a BBQ lunch of Mullet Burgers, vegetarian option or sausages, supplied by FOK, cooked & served to perfection by Neil Malmtsrom and Telena Rogers.
Visitors had a chance to walk to the boat jetty, as well as the bird hide, and inspect Kinaba's surrounds. Many of the visitors have never been that distance up the Noosa River system and all were very impressed with the area, and the work done on the centre by the dedicated FOK volunteers.
 A slight breeze started in mid afternoon, for a lovely trip home.
 This was a very busy day for FOK members, who went out of their way to make the day the success that it was. Thanks go to Neil for his expertise at the BBQ, to Telena for her tireless effort in making sure everyone was lubricated and fed. To Jan Clarke who ensured that everyone got on the boats as they were departing, to Ken & Karen Eddie, Paul Wilsteed, David Hanby, Bob Clarke & Charlie who got everyone there and back safely. To Brian May of Elanda Camping Grounds for lending us his boat to ferry people across. To Charlie who ferried the BBQ's & tables etc, there and back in the days before and after the event, as well as organising the event together with Ada handling logistics, and Tony & Stephanie Haslam from NICA.