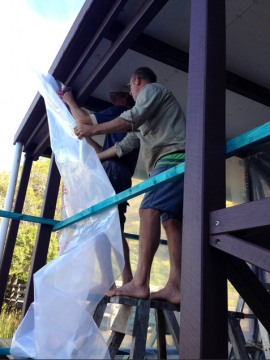 One of the interesting aspects of the restoration of the Kinaba Information Centre is that the ceilings inside and out are asbestos. The paint is flaking off, and the ceilings need to be cleaned and re-painted.
We are required to ensure all asbestos is sealed before cleaning and painting, so Al Gymer, who is a registered asbestos inspector and removalist, and a Kinaba volunteer, has donated his time and expertise to inspect all the ceilings and seal them where needed.
To do this safely, and to prevent any flakes landing in the Lake, it was necessary to work inside a plastic room, with a black plastic groundsheet on the floor. The four plastic sheets making up the room needed to be attached and sealed at the top and middle and along the sides, and overlap the groundsheet.
So while 2 workers donned disposable overalls, wellington boots, respirator and goggles to work inside in ½ hour shifts, 2 workers kept an eye on them to make sure they kept breathing, and did not overheat. After the inspection and after any raw asbestos was sealed, all gear and the plastic was rolled up and double bagged for disposal, and a new room set up in the next section – a lengthy process.
The outcome of the working bee was that the ceilings are now ready to be painted – and this will be our next job. Steve has been able to supply us with the necessary equipment that we have no access to, and with the generous assistance of our volunteers, we seem to be able to come up with everything that is required for each job.