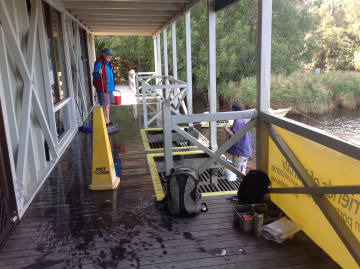 Twelve intrepid souls crossed the lake in ideal lake-crossing conditions, to spend a few hours maintaining the Information Centre. Two of those folk were inducted on-site, adding to our volunteer base.
General cleaning, painting and minor repairs carried out, plus listing future tasks to be tackled. As usual, morning tea offered a chance to re-group and chat.
It was our first dedicated maintenance trip with the new vessel "Jabiru", with passengers suitably impressed.