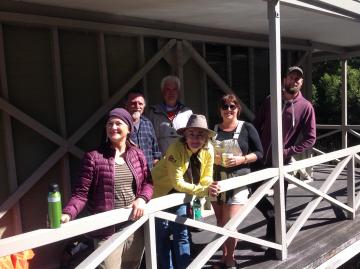 Sat 18th July saw the first maintenance event at Kinaba for several months. Ideal conditions to cross the lake....cool, calm & sunny.
Four vessels ferried eight volunteers, plus six new enthusiastic folk who were inducted as volunteers, on site on the day. 
Cleaning, oiling boardwalks, painting women's toilet and various small tasks were completed, including morning-tea with tea & coffee supplied plus some yummy treats. 
Everyone enjoyed the experience and are keen to return to our regular caretaking program.      
All events at Kinaba are recorded on our wonderful website (blog), & we encourage everyone to remain informed by visiting     kinaba.org