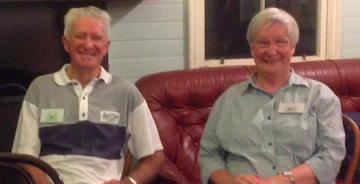 Ken Eddy organised a great night of history last Wednesday night at the Apollonian Hotel.  For 2 1/2 hours we were entertained by stories, anecdotes, wonderful old photographs, and a history lesson of the local Kinaba area.
Dr Elaine Brown spoke about the Lakes, Creeks and Swamps and the delta formed by the junction of Kin Kin Creek, Fig Tree Lake, Noosa River and Lake Cootharaba over the past 180 years, the changes in land use and stories of some of the local families, historical figures, and government officials who took an interest in the area.  Some of the accompanying photographs were brilliant for showing the free-hand maps drawn of the Noosa River and its landmarks in 1837 by the escaped convict John Graham to lead the party searching for Eliza Fraser to the aboriginal camp where she was.  Later in 1863, William Pettigrew drew up another map of the area which was part of a larger map of the coastline.
Ron Turner who was the first District Ranger for Maryborough area ws responsible for 35 National Parks frim Bundaberg out to Monto, the Bunya Mountains and Glasshouse Mountains to Bribie Island.  And he helped to peg out the site for the Sir Thomas Hiley Information Centre which was to be built over the water.  So Ron had lots of historical anecdotes and the loan of some brilliant photographs that showed the Roberston Brothers team at work.  They were an industrious crew, and built floating decks and pontoons for work benches and their own pile driver.  
Ron also had the loan of some aerial photographs which clearly showed the changes at the mouth of the Upper Noosa River, The Shallows, and the small developments inside the boundary of the National Park.
Ron and Elaine worked as a team supporting and building on each other's knowledge during question time.  
About 90 people came to listen, and it was very interesting and rewarding for those who attended.
The talks were videoed, and after editing is complete, it will be published on the website www.kinaba.org