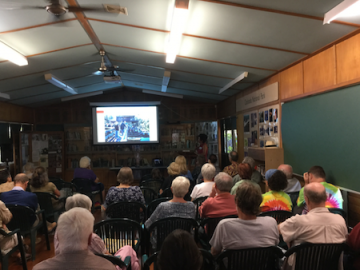 Ada arranged to speak to Noosa Parks Association at their Friday Environment Forum at Wallace Park, Noosa on Friday 10th November.
NPA have supported our project for permission to continue to maintain the Kinaba building, to retain it with public access and to re-open it as the Kinaba Information and Environment Centre. 
Ada is one of our outstanding and consistent spokespeople when it comes to promoting Friends of Kinaba and the work our volunteers have managed to complete. It may seem to be speaking to the converted, but NPA members have shown their interest in being kept informed of our progress. Good on you terrific volunteers, and Ada for spreading the word.