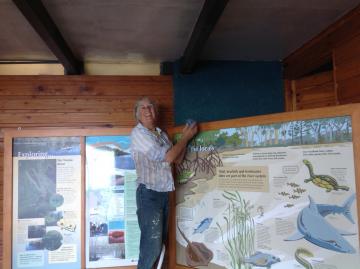 A group of trusty volunteers paddled and motored up to Kinaba to continue the work there.
After the asbestos inspection, Bob and Ken mixed the textured paint, and applied to the area of verandah ceiling that was checked and passed.  Only a small section, but it does look smart after a coat of white, and mission brown on the rafters - very neat.
Sue and Rikki spent the morning on ladders and trestles washing the mouldy ceilings in the display area - Wow!!!  What a difference!!!  There are a few areas with peeling paint where the sun comes in through the perspex at the top of the eastern wall, which was left for an inspection.
Charlie donned wet weather gear and gurneyed the toilets upstairs to remove the mould on the walls and ceilings - fantastic - it looks very presentable now.  And Martin continued the wire-brushing of the bolts and fastenings in readiness for the rust converter and anti-corrosion paint.
A great place for a project!!