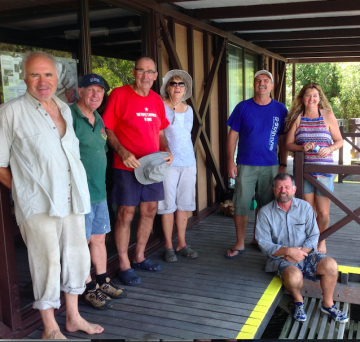 Today, a wonderful mob of eight dedicated volunteers put in a productive morning at Kinaba Information Centre, cleaning and tackling necessary repairs. This bee they were joined by Noosa councillor Joe Juresevic, who now knows what Friends of Kinaba have been up to. 
The jobs crossed off the list this time were:
replaced

 louvres with fixed glass panels and

 insect screens above

new rollers in sliding glass door

safety non-slip 

yellow painting of edges of stair treads and deck

cleaning down cobwebs and cleaning glass doors and windows, floors etc

and some deck repair.   
New screen doors and window screens will be installed next time.