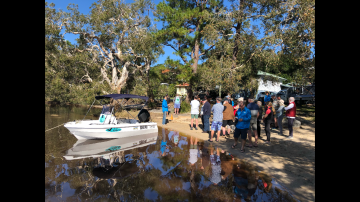 Finally we had perfect weather for the launching of Friends of Kinaba's new boat, "Jabiru".
Charlie faced a mob to explain how NICA (Noosa Integrated Catchment Association) secured a grant from a Government Gambling Fund, enabling Friends of Kinaba to purchase this boat.
Thanks were expressed to Sandy Bolton, MP;  Kieran Hoey, QPWS;  and John Olds, CCA,  for their letters of support. Also to Jan Green, Richard Howard and Gill Studdock from NICA for their expertise. Thanks to Ada Medak and Ken Eddy from FoK, plus Max Bannah for his decal art-work, and Rob Killeen for donating secure storage of Jabiru.
A splendid presentation of finger food by Lena Bentley & Ada, together with bubbles and juice set the scene for a pleasant lakeside gathering.